Since 2012, Amaclio Productions has created prestigious shows for an ever-bigger audience in emblematic French historic monuments.
Amaclio Productions creates, produces and set events. The firm has been created by François Nicolas, entrepreneur in love with history and literature, and by Bruno Seillier, director and scriptwriter, and is specialized in the showcase of our heritage.
Amaclio Productions' shows generate emotion and enchantment, and invite the spectators to broaden their knowledge of the landmarks and their history.
Our mission is to invite people to love history, by magnifying the European heritage.
La Nuit aux Invalides, a monumental video show, has gathered more than 650 000 spectators for 9 seasons. With the 10th edition of La Nuit aux Invalides, called « Napoléon - The Flight of the Eagle », come and rediscover the phenomenal journey of a man that made Europe breathe at his rhythm for twenty years.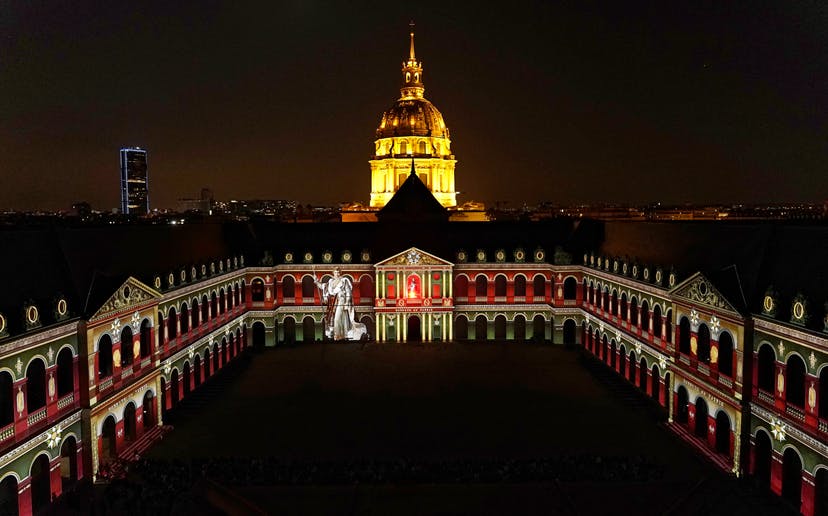 Les Luminessences d'Avignon, another monumental 360° video show projected in the main court of the Palace of the Popes in Avignon gathered more than 350 000 people. This show was unique due to its massive size. It took place every summer between 2013 and 2017.
La Conquête de l'Air was a show created in April 2016 in honor of Dassault, and it traced this French aerial adventure. About 25 000 spectators enjoyed this 360° supersonic show in the nave of the Paris 9rand Palais. Latest technologies, archive scenes, special effects, videos of planes in flight, and a unique soundtrack told 100 years of aeronautical achievements. Three legendary planes became the actors of this scenery created by Bruno Seillier.
Discover the Mont-Saint-Michel Abbey like never before with "If the Mount could tell its story". Since 2018, Amaclio has gathered 200 000 spectators in the abbey at night.
Since 2012, Amaclio has gathered more than 1.3 million spectators, becoming one of the major cultural actors in France.